This excerpt is from www.vitispr.com. I found the following information useful and worthy of sharing. This is unedited and there is a link at the end for the rest of the article.
Published Date 2011-11-04 07:30:12    Written by Jas
Ever wondered about free press release services? Is it worth posting your news to a free press release site to get your message out to influencers, or perhaps you're hoping to use the service to build links as part of your SEO efforts? In this, the first of our regular reviews of free press release services, we looked at 60 different sites to find out which are the best and worst. We issued a series of press releases using the sites and evaluated the results in terms of both PR and SEO benefit. Read on to find out which sites deserve your attention.
Public Relations professionals know that one of the most important parts of the job is media relations, talking to journalists, editors and bloggers to understand what kinds of story would interest them – what's the point in writing and issuing news if no-one covers it? However, instead of doing pre sell-ins to see if a release you are considering might be of interest, there is now a far easier way of getting your news out there…without ever having to lift the phone! Free PR distribution websites have been getting more and more popular in light of the current economic climate. But, which sites are a scam, which actually offer you the free PR distribution service you want to get your release online and which offer you even more, such as links and syndication to other sites?
For the SEO community, press releases have been used as a vehicle to help link building efforts, but do the free distribution services actually help build links?
We've done the leg work, spending a month researching and trialling 60 of the free PR distribution sites we found that were still active online, so you don't have to.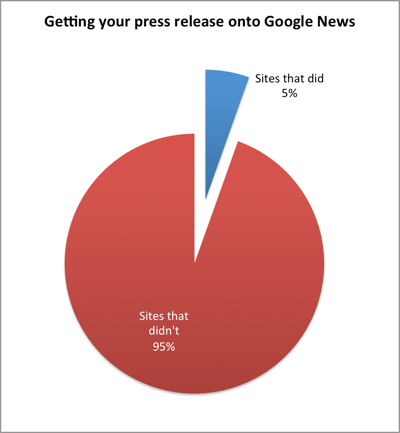 Only three free press release sites got our stories onto Google News
Note, some of the sites didn't make it past the first step of our test. We managed to submit press releases to 55 of the sites, because:
Five of the sites focused on content we couldn't provide with our test releases (e.g. IT Backbones, IT Director, IT Analysis, BetaNews). Note this isn't to say that they aren't good press release distribution sites – in fact on the contrary, a clear editorial direction seems to be an indicator of a higher quality site
Others requested some kind of payment in order to 'publish' the press release
Others failed to load or gave some other error that prevented us from uploading the press release
Questions about free press release distribution services that we wanted answered
To determine whether these sites deserved our time and attention, we formulated these questions:
Do journalists and bloggers actually use the press releases on free sites for news?
Would the release appear on Google News?
Would the release appear in a Google web search?
How easy to use are free release sites?
What help (if any) are free press release sites for link building?
Could we use the sites to help 'own' the search results for a targeted phrase?
For the rest of this article visit http://www.vitispr.com/blog/free-press-release-sites/
And yes, the complete article does answer each question in detail.